Como ya sabes, una estufa de exterior es la mejor manera de poder seguir disfrutando del jardín o terraza en los meses de otoño e invierno.
Ahora que el frío se acerca seguro que estás pensando en cuál sería la mejor manera de mantener una temperatura agradable, ya sea para la zona exterior de tu casa o negocio.
Las estufas eléctricas de exterior por infrarrojos es la mejor opción. Ya que se trata de unas lámparas de cuarzo o carbono que producen radiación térmica. Este tipo de estufas no calientan el aire, sino superficies que estén cerca de su radio de acción. Esto hace que no se pierda calor por convección y, por tanto, son muy eficientes.
Ventajas estufas eléctricas
Ocupan poco espacio

Son ligeras

Más económicas

Puedes prescindir de tener leña o bombonas de gas en casa, objetos que ocupan mucho espacio.

Pueden situarse en patios acristalados o semi cerrados.
Estufa de exterior Küken
Esta estufa eléctrica dispone de tres ajustes de calor de 650, 1300 y 2000W. Se puede usar sobre su soporte de pie o montada en la pared. Además el soporte se puede regular la altura hasta 2,10 metros para que puedas situarla como mejor te vaya.
Algo que destacar es que dispone de protección antivuelco. Además, la podrás usar incluso en lugares o días húmedos porque dispone de protección IPX4.
Features
Estufa eléctrica apta para uso exterior (IPX4).

Ideal para terrazas de hostelería y restauración, puertas de locales y tiendas.

3 heat settings via cable switch (650/1350/2000W).

Quartz tubes with high infrared heat radiation.

Reflector pulido para una máxima eficiencia.

Altura regulable con tubo extensible (1,2 a 2,1 metros).

Uso seguro gracias a la base de gran tamaño y estabilidad.

Automatic shut-off when the cooker is accidentally knocked over.

Cabezal orientable verticalmente en ángulo de 45º.

The heat is distributed evenly and radially up to 3 metres.

Rejilla de protección para evitar accidentes por quemaduras.

Cable eléctrico de 1,8 metros con alta resistencia a la abrasión.

Sistema de protección contra sobrecalentamiento.

Peso total aproximado de 8,5 kg.
Otras opciones Küken para los meses de frío …
Visita la web de https://kuken.es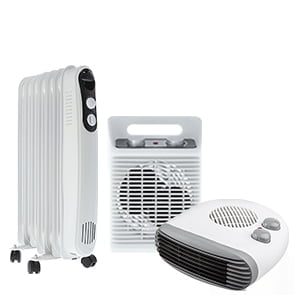 "Available at your local hardware and small appliance shop."
Follow us on social media!